KIMPIRA
きんぴら
Kimpira, a classic dish on Japanese home tables,
features burdock root and carrot cooked
with soy sauce, sugar, and hot chili pepper.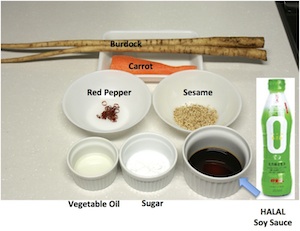 9 in.(22cm) length burdock root, about 3 2/1oz.(100g)
1/3 medium carrot, peeled and cut into thin sticks
1/2 tsp crushed chili pepper or
1/2 dried hot chili pepper sliced into thin rounds
2 tsp vegetable oil
2 tsp Halal soy sauce
1/2 tbsp sugar
1 tsp toasted sesame seeds
DIRECTIONS
1
Scrub the burdock root in cold water with a stiff brush (peeling is not necessary),
and use a vegetable peeler to shave it into thin shreds.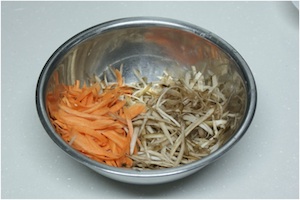 2
Heat the vegetable oil in a frying pan or saucepan over medium-high heat,
then add the burdock root, carrot, and chili pepper.
Cook until the burdock root and carrot shed their juices and become slightly soft.
Add the sugar and Halal soy sauce and cook, stirring continuously, until the liquid is almost gone.
Take care not to scorch the Halal soy sauce.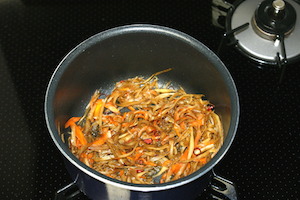 3
Sprinkle with the sesame seeds before serving.